HRS A/S was founded in 1980
HRS acts as an umbrella organisation for a number of independent departments, each with its own specialisms. Together, these departments make HRS a versatile and unique provider.
Quality craftsmanship
Over the years, HRS has gained great recognition for its quality craftsmanship. The company has built up a great deal of experience in:
Industrial maintenance and new construction.
Construction materials, norms and standards
Up to date mechanical engineering and construction.
HRS is equipped to meet the demands and challenges of the future with - a professionally and theoretically well-trained staff.
A large, modern and up-to-date machine park.
HRS sees the customer as its lifeblood - customer satisfaction is a key fundamental element.
The company has adopted a flat and dynamic organisational structure. Our coordinators, who are close to daily events, are equipped with the freedom and competence to make decisions and act on their own initiative within the framework of HRS's objectives and the Human Resource System management system.
Philosophy
We trust that our employees have both skills and knowledge that they are willing to use and develop. The Human Resource Management System can engage everyone and bring their heart and soul to work.
Vision
We want to be a challenging workplace for skilled and responsible employees, and an attractive and stable supplier for quality- and economy-conscious customers.

Mission
We give our employees the freedom to carry out their daily work independently. This is both to ensure maximum job satisfaction among HRS employees, but also to provide our customers with maximum value and the best solution.
Corporate culture
We strive to keep the employee and the customer in close contact so that any problems can be solved as soon as they arise. We aim to develop short and long-term cooperation and to create long-term relationships that benefit both parties. Customers and employees are kept up to date via the website and newsletters. At department meetings, employees are informed about the department's finances, order books and plans. An open dialogue should create confidence and anticipate misunderstandings.
Profits and growth
The profits of HRS A/S are used as bonuses for the employees and for the consolidation of the company. The accounts of each department are drawn up according to the same model as the accounts of the A/S. Part of the department's profit is distributed as a bonus according to rules determined by the employees themselves.
Human Resource System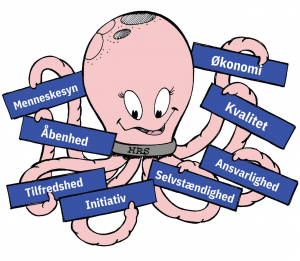 The Human Resource System is based on the management principles of Human Resource Management. We have chosen 8 key words in Human Resource Management - one for each arm of our HRS octopus.
The octopus has always symbolised the versatility of HRS's work areas and employees.
Our cartoon is a fun picture of how HRS works with our customers. See the cartoon here